It's now 16 days until the kickoff of Catamount football on Labor Day Weekend, Saturday, September 1, 2018, against the Newberry College Wolves, in Cullowhee.
Today, we'll highlight a quarterback
#16 Bubba Williamson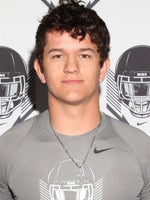 Position: Quarterback
Height/Weight: 6'2" 180
Class: Freshman
Hometown: Kershaw, S.C.
High School: North Central HS
Prior to Western Carolina: Entered WCU in the 2018 spring semester, going through spring drills with the team ... Played both quarterback and safety as a prep, starting at QB as a freshman ... Listed as a two-star prospect by 247Sports ... Ranked 68th in the state of South Carolina Class of 2018 ... Missed bulk of his junior season to a shoulder injury, returning to throw a 10-yard TD pass before setting his sights on his senior season ... Threw for 1,065 yards and seven touchdowns as a sophomore ... Also played baseball as a prep.
Personal: Full name is Michael "Bubba" Williamson.