https://weberstatesports.com/news/2017/9/21/1987-football-team-to-be-honored-october-28.aspx
OGDEN - Weber State football will turn the clock back 30 years to honor the 1987 Wildcat football team. The '87 squad will be recognized as the first Weber State team to advance to the FCS Playoffs and will be honored during Weber State's home game on Oct. 28 against Montana.

Members of the 1987 team and coaching staff will be recognized and honored at halftime of the Oct. 28 game.

The 1987 team posted a 10-3 overall record and tied for first in the Big Sky at 7-1. The team was the first Weber State team to win 10 games in a season and was the first Weber State team to advance to the FCS Playoffs. The team also was ranked as high as seventh in the during the season.

After a 7-1 record in conference play, the Wildcats were selected for the then-Division I-AA Playoffs and were sent to take on Big Sky rival Idaho in Moscow. Weber State team the Vandals 59-30 in the first round before falling at Marshall in the second round.

The 1987 coaching staff was led by head coach Mike Price. Dave Arslanian was the offensive coordinator with Mike Zimmer, the current head coach of the Minnesota Vikings, as the defensive coordinator. Other coaches on the staff included Larry Lewis, Lawrence Livingston, current Louisville head coach Bob Petrino and Jim Zeches.

Price was named Big Sky Coach of the Year that season. Hall of Fame running back Fine Unga, senior linebacker Robb Akey and senior linebacker Vernell Quinn all earned First Team All-Big Sky honors. The team also included Hall of Fame quarterback Jeff Carlson.

Interesting facts,
1. 1987 was the last time before the 2015 season, that Weber beat the Montana Grizzlies in Missoula Montana.
2. Weber State's opponent in the game will be the Montana Grizzlies
3. 1987 was the year I was born and the game will take place two days after my birthday.
4. Weber State will also dawn the old "Flying W" Helmets for the game. (The logo on the top right)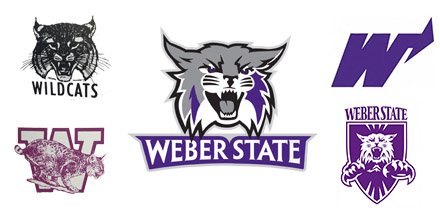 This will be the first time Weber State will have done something like this, I think it is really cool and wish they would more often.