Western Carolina
#99 not assigned - so we'll highlight another football assistant coach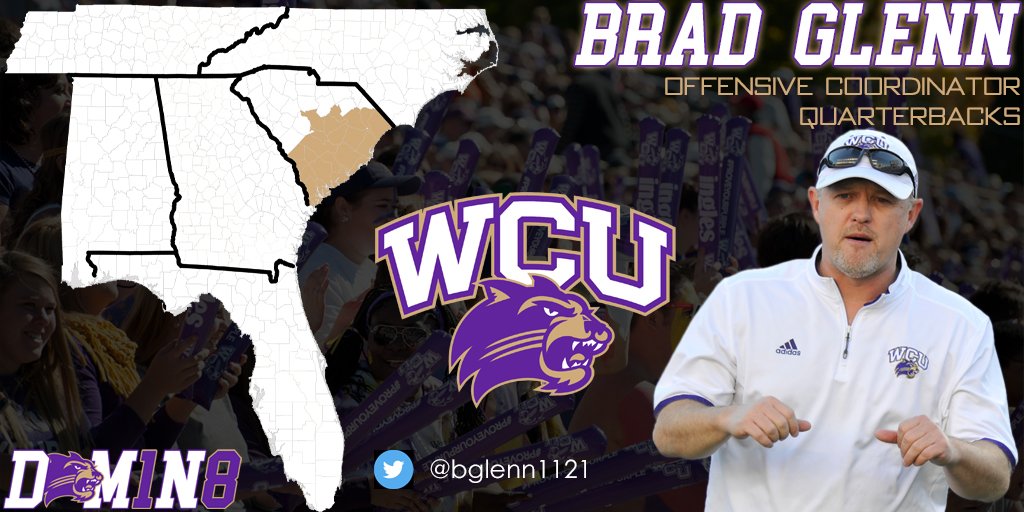 Brad Glenn
Hometown
: Seneca, S.C.
Position
: Associate Head Coach / Offensive Coordinator / Quarterbacks
Alma Mater
: Clemson
Graduated: 1995
Brad Glenn
joined the Western Carolina University football coaching staff in 2012 after seven years at Appalachian State. He works with the Catamount quarterbacks while also serving as the program's offensive coordinator, bringing the spread offensive formation and the read option that he worked with at Appalachian State to Cullowhee.
In his short time at WCU, Glenn was instrumental in molding quarterback Troy Mitchell who flourished in Glenn's system. Mitchell finished his career as WCU's all-time career leader in total offense with 9,397 career yards. Under Glenn's guidance in 2012, Mitchell – an All-SoCon selection – rushed for eight touchdowns, the most by a quarterback at WCU in program history, according to available research. Then in 2014, Mitchell broke the program's 14-year old record for total offense in a single-season, amassing 3,096 yards including passing for 2,541 yards and 20 touchdowns and rushing for 555 yards with six scores on the ground.
Not only has Mitchell excelled at quarterback under Glenn's tutelage, but two receivers have posted double-digit receiving touchdown tallies in his system. In 2013, Karnorris Benson matched the school's single-season receiving TD record with 12 scores, while Spearman Robinson caught 11 touchdown passes in 2014, both earning All-Southern Conference accolades.
Prior to his move to Cullowhee, Glenn spent three seasons as the quarterbacks coach while also serving one year as tight ends coach (2005) and three working with the slot receivers (2006-08) at Appalachian State. He additionally came to Cullowhee with coordinator experience at two different high schools as well as two seasons at North Greenville College from 2002-03.
While at ASU, Glenn coached six All-Southern Conference honorees, most notably mentoring the two SoCon Offensive Players of the Year in quarterbacks Armanti Edwards and DeAndre Presley. Edwards additional garnered the Walter Payton Award honoring the nation's top NCAA Division I FCS player.
A native of Seneca, S.C., Glenn started his coaching career as the offensive coordinator and quarterbacks coach at Greer (S.C.) High School from 1995 through 2000, helping lead the program to a 25-3 overall record and back-to-back South Carolina Upper-State runner-up finishes in 1999 and 2000. He got his start at the collegiate ranks in 2001 at Elon coaching tight ends before spending the next two seasons at North Greenville College as the offensive coordinator. He returned to the high school ranks for a season in his hometown at Seneca High (2004) before being hired at Appalachian State.
Glenn is a 1995 graduate of Clemson University. He is married to the former Anna Thompson and the couple has two daughters – Zoey and Landry – and a son, Hank.
(Bio Courtesy WCU Athletic Media Relations)